Natural Museum-Reserve "Polenovo" located in the Tula region, in the lands of the former estate Borok, which belonged to the V.D. Polenov – the great Russian painter. It houses one of the most comprehensive collections of paintings by the artist, which outnumber collection of his paintings in the Russian Museum in St. Petersburg and the Tretyakov Gallery.
In 1887, in his letters to his wife, Natalia, Polenov admitted that he dreams of his own home in this beautiful region. In 1889 he went on a cruise along the Oka river, with his painter friend Korovin. Local scenery was so impressed Polenova that a year later he got a plot of land in the village Bekhovo. A year later he gave this land to the peasants, in return up the hill, which offers great views of the Oka.
Museum exhibitions are in a building painter. Location exhibits and interior of the house has hardly changed since the death of Polenov. Room with parquet floor was originally called "Games" and was intended for children of the painter. However, after his mother died, and the younger sister of the artist, he moved here things from home in Moscow and arranged here exposition dedicated to their memory.
Collection of Greek antiquities and authentic Egyptian collection can be seen in the next room. At the time, the father Polenova purchased them on a trip to Greece and the Middle East. Egyptian collection, in addition to numerous figurines and statues, including a curious artifact like a bandage that was used for making mummies. Often, these items were Polenov kind at work on paintings.
Here you can see and collected Polenov paleontological and archaeological collections fossil horsetails, tusks and mammoth bones, axes and stone knives, arrowheads, stone, fragments of prehistoric pottery. Previously, these items were used as a visual aid for students studying the history of the nearby village schools.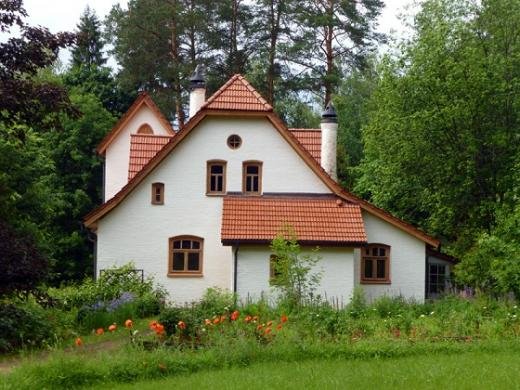 Central room in the museum-reserve "Polenovo" is a library – by the way, so it was during the life of the artist. This room – the most spacious in the house. When the artist's life, it serves as an art gallery. It exhibited paintings, painted by fellow painter by the Association Peredvizhnik and the Academy of Arts. Today the museum fund "Polenovo" totals 4,000 graphic works and more than 700 paintings.
Contact Information:
Official name: State Memorial History, Art and Natural Museum-Reserve V.D. Polenov
Address: 301011, Tula region, Zaoksky district, p / o Strahovo.