Historical and Ethnographic Museum "Shushenskoe" – a unique complex situated in the open air with a total area of 16 hectares.
The memorial part of the exhibition consists of 29 houses, 23 of which are genuine and dated XIX century. On estates and homes recreated living conditions Siberians showing local arts and crafts, covers the main classes of peasants. Memorial setting is stored in the two houses, where once lived V.I. Lenin.
History of the museum began in 1924, when there was an initiative to perpetuate the memory of Lenin, who spent some time in a Siberian village as a political exile. For example, a house belonging to peasant P. Petrova, in which Lenin spent most of the reference period, was purchased. First apartment was bought in 1928 – it belonged to the peasant A.D. Zyryanov. Originally it housed Readers room and Rural Council, and then it was decided to create in these houses Lenin Museum. Its opening was held in 1930 in the house of Peter.
In 1939, January 1, he came under the management of the Krasnoyarsk Regional Committee of the CPSU (b), becoming part of the Central Lenin Museum Lenin. Exposure at home A.D. Zyryanova launched in January 1940.
April 1968 was a landmark in the history of the museum Shushenskoe. It was then that here was organized by the museum-reserve called "Siberian Exile of VI Lenin. "The main object of the memorial was the house-museum of VI Lenin. Played an important role and space-architectural environment Shushenskogo. Opening of the Museum-Reserve was held in 1970, on 12 April.
Today, the museum houses more than 30 different collections: vehicles, memorabilia, graphics, numismatics, religious items, musical instruments, samovars, dishes, clothes, furniture. Also here you can see the gun making, and blacksmithing craft, woodworking, weaving, fishing, beekeeping, hunting, herding.
Sightseeing tour of the museum Shushenskoe assumes familiarity with the farms of rich and poor villagers, visit the tavern, retail shops and a local government with a prison. Museum "Shushenskoe" offers visitors a feast traditional drinks and dishes peasant cuisine, demonstration of old crafts.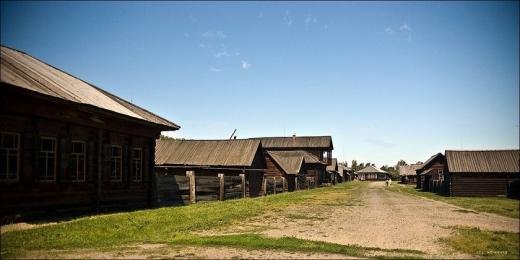 Every year there are festivals of inter-regional level, such as "Trinity Village" and "Wide Pancake." In the Museum work shops: folk costumes, wood art, cooper, potter.