State Nature Reserve Ubsunurskaya Kotlovina is located in southern Siberia, in the territory of the Republic of Tyva. It was organized in 1993, on 24 January. The total area of the reserve is 323,198 hectares.
On conservation area is dominated by the transition of the East Siberian to the Central Asian climate. It is characterized by the contrast that is directly related to the location of the reserve in the heart of Asia. Every year in the reserve falls about 200 mm of precipitation. Frosty winter with little snow, summer is hot and dry. The lowest temperatures occur in January, when the thermometer drops to -37°C. The highest temperatures in July: average temperature of this month is 20°C.
The flora of the reserve Ubsunurskaya Kotlovina differs mosaic and complexity. Here you can see almost all the types of vegetation that are typical of the temperate zone: forest and mountain tundra, wetlands and grasslands, salt marshes and meadows, farmland and bushland, cliffs and alpine vegetation, as well as community and salt-loving plants xerophilic, sandy, stony and clay deserts.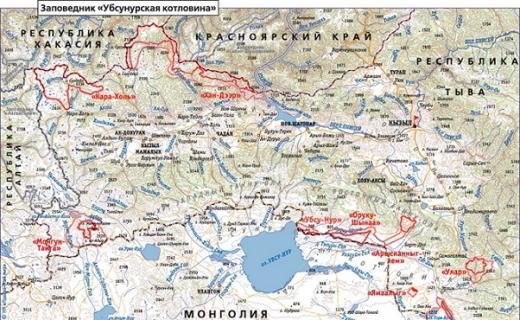 The Red Book of the Russian Federation included more than thirteen species of plants that grow on the reserve.
The richness and diversity of species characterized by the wildlife reserve. Thus, in the Ubsunurskaya Kotlovina common rodents, such as the midday gerbil, jerboa Siberian, Long-tailed ground squirrel, Roborovski hamster. Artiodactyl primarily represented the Siberian roe deer, carnivorous mammals – badger, light ferret, Corsac fox, Marbled polecat, Manuli, red wolf, fox.
Of the birds in the reserve, following species: Common Redstart, White Wagtail, Isabelline wheatear, Wheatear, Barn Swallow, Isabelline shrike, Mongolian Lark, bearded partridge, Pallas sand grouse, rock pigeon, dove gray, bustard, black vulture, steppe eagle , common kestrel, peregrine falcon, saker and others. In local waters usual grayling, peled, common pike, dwarf subspecies, Altai Osman.
Contact information:
Address: 667010, Republic of Tuva, Kyzyl, st. Kalinin, 144 A.