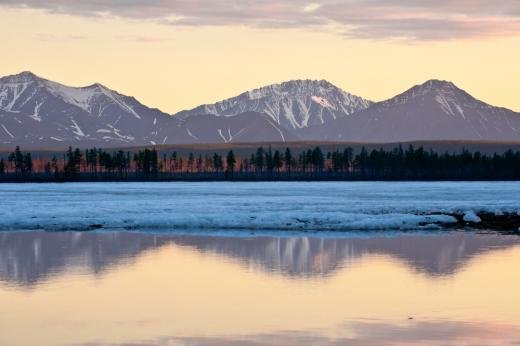 The unique lake Ulahan-Kuel is one of the most protected natural areas of Yakutia, it has the status of republican significance. It is located in the northeastern part of the Žigansky ulus. The total area is 11046 ha.
It is unique in its origin water body, which has a special nature protection, scientific, cultural, aesthetic, recreational and health value, which is of special economic, social and historical value for present and future generations.
A special regime for the use and protection of a unique lake is established with the aim:
– conservation of Lake Ulahan-Kuel in the natural state;
– reproduction and restoration, as well as rational and regulated use of aquatic biological resources;
– Conducting ecological monitoring and propaganda of nature protection.
Calm water surface and towering on its backdrop are extremely clear silhouettes of mountains with white veins of snow … Ice at the water edge and untouched virgin forests – all this can be seen in a unique place in Yakutia, on a lake, whose name is pronounced correctly the first time, not so it's easy – Ulahan-Ary-Kuele. There are a lot of beautiful places in Yakutia, but even against their background this amazing lake, considered a special nature protection zone, stands out from the general number.
The beautiful, mysterious, somewhere even mystical Lake Ulahan-Ary-Kuele is located on the island, which in itself is already quite unusual. This island is called as difficult to pronounce, how beautiful is its nature – Ulahan-Ary. In addition, the island is uninhabited, and, hence, problems with crowds of tourists here will not be exact.
Ulahan-Ary is characterized by the fact that there are quite a lot of water reservoirs on its territory and the largest of them is just Ulahan-Ary-Kuele. But his main advantage is not in impressive proportions, but in stunning beauty. The lake was not accidentally included in the list of specially protected natural sites. The flora and fauna of the island and the lake itself are rich. Deer, moose, bears, sables, who just do not live on a densely forested island. The underwater lake world is also rich, and by the way, it allows fishing, that is, it is quite possible to taste the local rare varieties of fish. The water in the lake has an unusual color, especially in combination with local vegetation. And its depths are not great: a maximum of 4 m. But you should not swim here, no matter what.
Address: Anabar National District, Republic of Sakha. To get there by public transport is impossible, it is necessary to negotiate with the driver of the all-wheel drive jeep, which will deliver for 4 hours from Taimylyr. The nearest village is Ust-Olenek, about 50 km from the lake.